Cultural Competency Training: AWARENESS

Cultural Competency Training: AWARENESS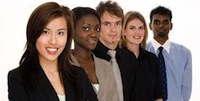 The Diversity Collaborative custom designs its Awareness Training to help managers and employees:
Recognize visible and invisible differences in individuals
Determine distinctions between the "Intent" of one's words or actions in relation to the "Impact" our words or actions have on others
Discuss how personal values affect the ways individuals make assumptions and form judgments about others
Changes in the demographics of virtually every American municipality are affecting the ways governments, businesses, and nonprofits operate. Those organizations that make corresponding adjustments to the way they recruit and hire employees, evaluate work performance, market their products and services, and embrace differences in a meaningful way—are far more likely to succeed through increased productivity, profit, improved customer satisfaction, and enhanced relationships with community groups.
Values Voting
Countless studies have found that personal values drive human behaviors. This highly interactive workshop focuses on personal values and how our own history tends to influence our opinions and judgments about others seen as "different," and the ways we treat coworkers, colleagues, and customers. The training helps participants examine their own values, assumptions and opinions about people – and become more aware of how to positively embrace differences.
This judgment-free session is practiced throughout the United States with consistently positive evaluations from senior executives, mid-level managers, and employees.
The Secret Handshake: Four-Hour Cultural Awareness Training
At times, embracing differences feels like defying gravity. This awareness-building workshop demonstrates the ways language and behaviors are unique individuals and cultural groups. Through meaningful dialogue and activities, the training explores the reasons common workplace behaviors and language may be bothersome or offensive to others – their own safety.
This workshop examines personal interactions and institutional practices that tend to reinforce stereotypes and cause individuals to form assumptions and judgments about others, behaviors that may affect otherwise peak performance.
The Secret Handshake: Eight-Hour Cultural Awareness Training
Too often, the consequences of common work behaviors affect individual performance, slow down team productivity, lead to protracted grievances or lawsuits, and end in negative media attention.
This expanded version of the four-hour Secret Handshake workshop includes more exercises and practice to help participants recognize differences and respectfully respond to cultural conflicts at work. Participants learn how seemingly positive intentions ("It was just a joke…" or "I didn't mean it THAT way…") may create a damaging impact on a listener or someone considered to be the target of hurtful comments.
Copyright © 2013 The Diversity Collaborative